These saddles can be custom fit to your horse or mule and are sold with the same great Warranty & Guarantee as one of our brand new custom made saddles.
If you are not sure what width tree your horse or mule needs you can fax us a wither tracing for evaluation to 307-433-1009. Click Here for instructions on taking a wither tracing.
For more info, call CJ at 877-595-0115 or 307-433-1008 for international calls.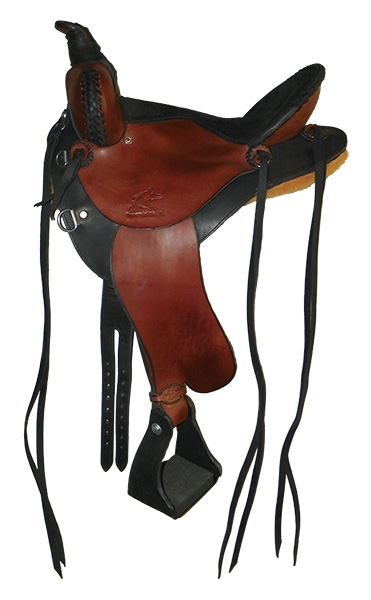 SOLD!
Almost new all black-brown lightweight trail saddle with a 15 inch black padded suede seat, wide pommel with a horn and roper's wrap. Cutback skirts with bulkless rigging. Mexican braided 4 inch cantle and short-regular streamline fenders.
Regular price $2790, discounted to $1690! Can be fit to a narrow to to medium width horse for $295 including the EQUImeasure Kit!
DSS Trail Saddle
Almost new black DSS Trail Saddle with an 18.5 inch  seat. Built on an XW tree.
The English DSS Trail Saddle has a shorter side flap than a Dressage saddle and the knee rolls are extended forward. This allows the rider to use a shorter stirrup to facilitate shock absorption in the ankle, knee and hip joints, providing a more comfortable ride in all types of terrain including mountains and rough, uneven ground.
The DSS Model can also be used for flat work, such as dressage, by simply lengthening the stirrup.
Regular price $2595, discounted to $1595!