All discounted saddles are either very slightly used or from our horse show demo stock. At the end of the show season we place these saddles on sale so we can start the new show season with new stock. When we do this we pass the savings on to our customers. Discounted saddles can be custom fit to your horse or mule and are sold with the same great Warranty & Guarantee as one of our brand new custom made saddles.
If you are not sure what width tree your horse or mule needs you can fax us a wither tracing for evaluation to 307-433-1009. Click Here for instructions on taking a wither tracing.
Call 877-595-0115 in the US or 307-433-1008 International for more information.
---
SOLD
Almost new black-brown saddle, 15 inch extra padded suede seat, Frank Bell pommel and a horn with a roper's wrap. Cutback skirts with English rigging. Mexican braided cantle. Regular streamline fenders. Border tooling and silver conchos with brass inlay.
Regular price $2995, discounted to $1995! Can be fit to a narrow to medium width horse for $295 including the EQUImeasure Kit!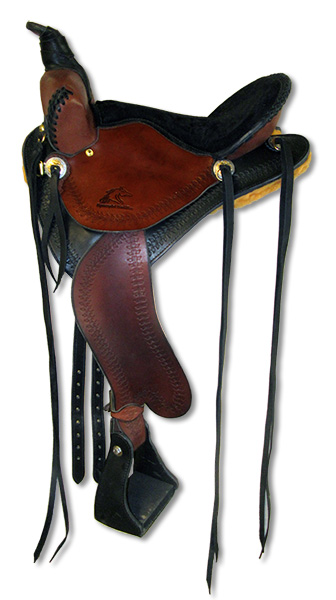 SOLD!
Almost new all black saddle, 16 inch slick seat, round pommel, no horn. Cutback skirts with 3 point rigging. Binded cantle. Border tooling. 2″ fender straps. (The 2″ straps can be replaced with regular western style fenders.)
Regular price $2520, discounted to $1620! Can be fit to a medium to extra wide width horse for $295 including the EQUImeasure Kit!