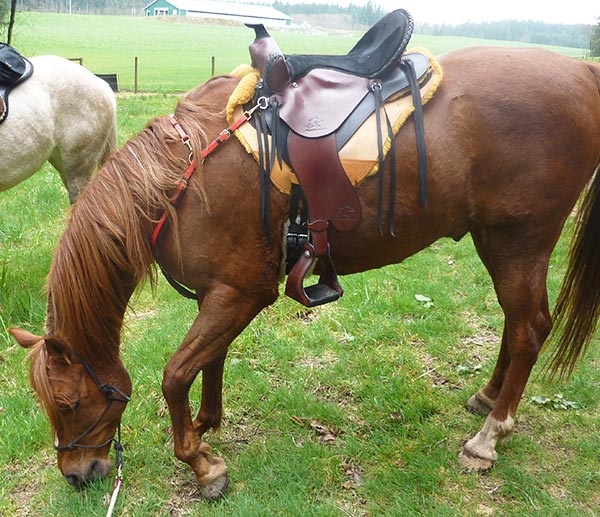 CJ!
The saddle has been great…..we took the horses out for 3 hours into the mountains…..here is a photo at the end of the ride – even though the saddle is custom for Georgia (the grey)…when I ride with my friend, I put the Synergist saddle on the chestnut gelding for me, but it fits him well.
Ride On….Lynn D
I have been looking for a saddle maker that is aware of the gender differences in saddle fit and finally this one is for the girls!!! I have been working with Synergist Saddles' CJ and Dave DiPietra for many years and continue to support the amazingly comfortable and effective performance saddles they custom make.
Mary Midkiff ~ Women and Horses ~ Professional instructor, clinician, trainer, and author.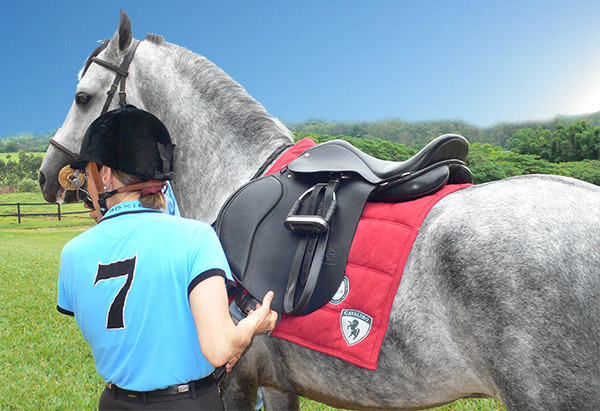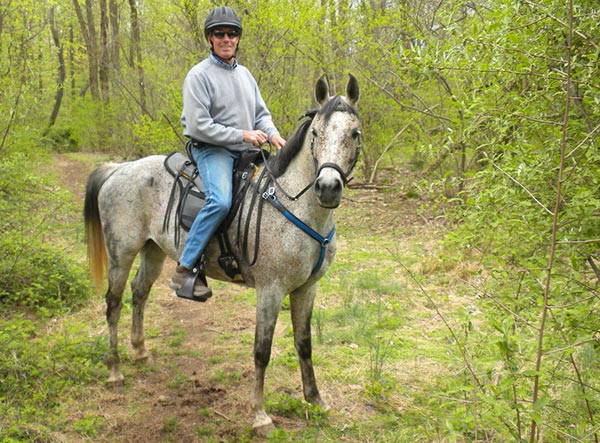 Dear CJ & Dave,
Thank you so much for creating the perfect saddle for me and my Arabian, Slyder. We are enjoying many miles on the trail – the more I ride in it, the better it gets!Thanks, again!
Doug W
A comfortable saddle for the horse and rider is of utmost importance, and far too often the cause of irritation is an ill-fitting saddle. Synergist Saddles fits you and your horse. Almost 10 years now and my horses are as happy and comfortable as I am. I recommend Synergist Saddles. Synergist makes every effort to design saddles that fit both the horse and rider. The result is a comfortable and balanced ride for both short and long distance riding.
Frank Bell ~ Horse Whisperer ~ Frank Bell's 7-Step Safety System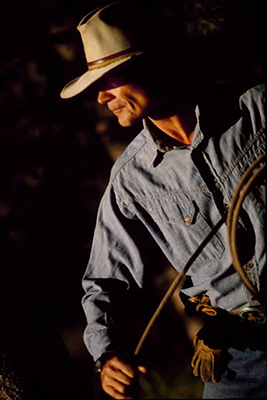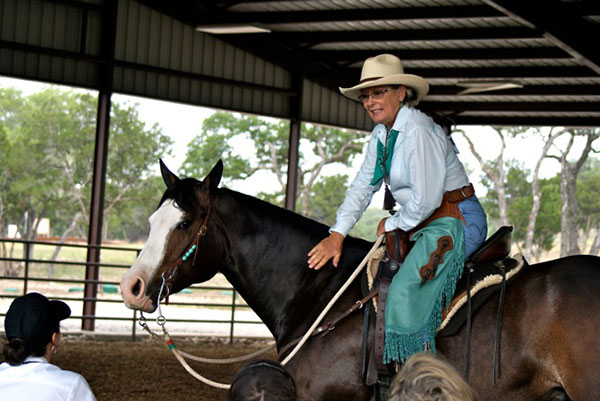 I thought you would like to see this photo of me in my beloved Synergist saddle. Photo was taken at the American Competitive Trail Horse Association tryouts for the reality TV show 'Americas Favorite Trail Horse'. The show will be on TV this summer. Don't know if we made the finals, but a lot of people certainly asked about my saddle!
TJ
"The English Synergist, DSS style saddle, is simply the best English saddle on the market today for the sport of endurance riding. Well made, with a very comfortable seat designed to allow a rider to attain a "centered", balanced position with little or no effort over all types of terrain. Its extra wide panel design and roomy spinal channel help ensure the horse's comfort. Event riders will find this saddle to their liking as well."
Donna Snyder Smith ~ Centered Riding Instructor ~ Author ~ Clinician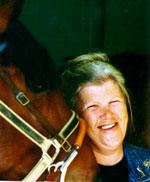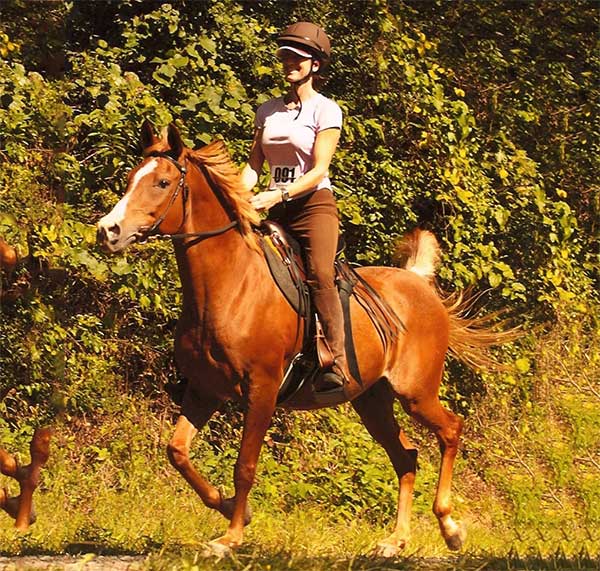 Dear Dave and CJ,
I just wanted to let you know how much I am LOVING my new Synergist saddle! When I saw this picture I thought, "No WONDER my back doesn't hurt!" I have never experienced such a lovely balanced position astride a horse, and my back has ALWAYS hurt after riding – until now! And as for my horse, at the end of the ride his sweat pattern was perfect and he was never sore over the next couple of days. I can't thank you enough for taking the time it took to make my own hybrid saddle perfectly! Oh, and have I mentioned lately…it is BEAUTIFUL!! Thanks, Dave and Synergist Crew!!
I don't ever want another store bought piece of tack again!
Sincerely, Julie G
Dear Dave,
I can not tell you what a pleasure it was working with you and your crew at Synergist. From the tree to the simplest detail of my saddle you paid close attention to what I wanted and made every effort to bring the saddle that I had always wanted into reality. I never had a working saddle that fit my Tennessee Walking Horses and that I could rope and hold stock on. From the very first time I sat in the seat it was unlike any saddle that I had ever owned it actually fit me, and I am a big guy. You guys not only put together a quality saddle but created a custom one-of-a-kind saddle like no other. My hat is off to you and the crew at Synergist.
God Bless.Moses Woodson ~ Moses Woodson Horsemanship, Mind–Body–Emotion – Better Balance, Better Horse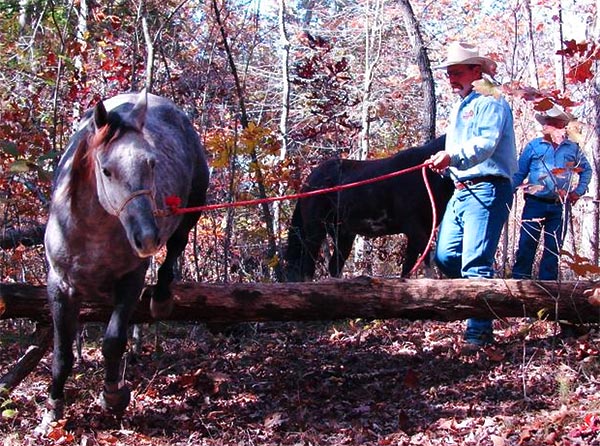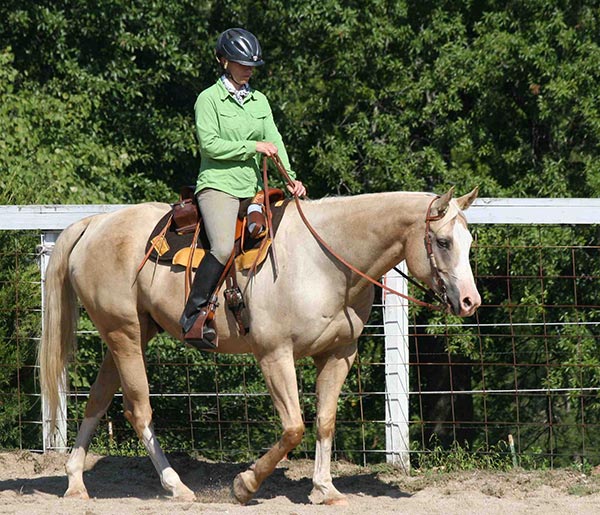 Dear CJ,
This is a quick note to let you know we received our new saddle on Friday and rode two full days in it over the weekend at a horsemanship clinic given by Lee Smith at our barn. A few folks must have thought I was crazy to break out a new saddle for two full days of riding, but I had done an initial fit on him with his saddle laid on bareback, and I thought I'd give it a go.
When I asked Lee Smith if she thought Dude's new saddle was a good fit, her reply was "Well, your horse sure likes it." Lee even did a professional saddle fitting for everyone. I was one of the only ones who 'passed'. She did a terrific job of swapping everyone else's saddles around until we found comfortable replacements for horses not as lucky as Dude.
I loved how my legs instantly fell into a centered position. I didn't have to fight my saddle to maintain a centered ride–instead, it promoted it! Most importantly, for the first time since I have owned Dude, I believe I am riding a saddle that fits him. What a relief!
Sincerely, Heather S and Dude
Hi CJ!
I decided I wanted to try competing in endurance. I wanted a saddle that was custom-fit to my horse so that I wouldn't have to worry about his comfort, and of course, I wanted to be comfortable too – very comfortable! After much searching and studying, I decided on Synergist. CJ could not have been more patient and generous, and I got my saddle on the date promised to top it off. The saddle was absolutely beautiful and I was thrilled! During the first couple of short rides, I couldn't seem to find my balance…but then I went on a long ride and found it, and now I'M IN LOVE! I have everything I need in the handy pouches/packs, the seat is really cozy, and knowing it was custom fit to my horse gives me GREAT peace of mind. It has lots of leather strings to tie things on, and the stirrups are wide so my feet never get sore. Comparing it to my western saddle, my legs don't ache now (that was a big one as the heavy leather fenders torked my knees and ankles), I don't have to worry about getting hooked on the horn, and instead of having to get off to tighten the girth, I can just lean over and do it due to the English style! To anyone that wants to compete in either hardcore endurance or just casual trails, I would strongly recommend a Synergist saddle! I'm a very happy girl!
Aurline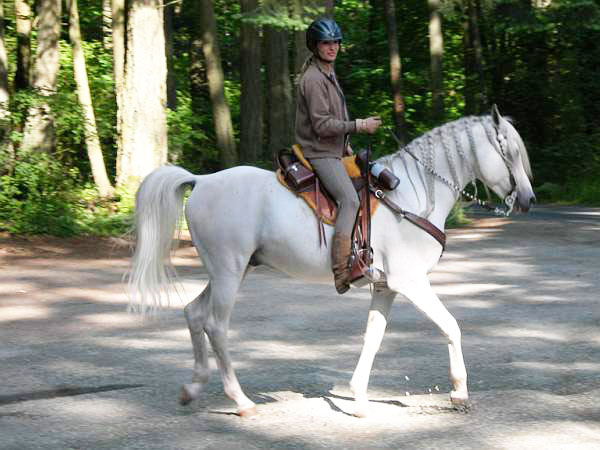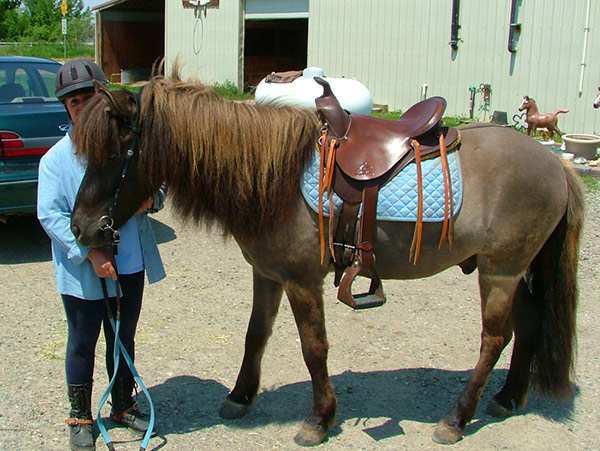 Hey CJ and Synergist team,
I have been riding in my semi-custom synergist saddle for 6 months now. (oh heck, let's be clear: it started out as semi-custom but y'all did so much work to make it fit both me and my Icelandic that it became all custom!) What an awesome saddle. It fits my flat-backed, no withers Icelandic perfectly! And it fits me just as well. I have never ridden in a more comfortable saddle. I am especially happy about how the stirrups are hung so that my seat is immediately more balanced. In addition to the excellent fit is the great styling and expert craftsmanship. This is a beautiful functional piece of workmanship.
The icing on the cake? The fantastic customer service I received from CJ. She made the entire process a fun experience.
Thanks so much! Valerie D
CJ,
I hope you enjoy the picture of Charlie and me with our new saddle. I love the saddle. Too many other commitments and too much bad weather kept me from riding for several weeks, but I was back in the saddle on Sunday, and it was just as comfortable as could be. It fits perfectly. Charlie has a rather playful look in his eye in the first picture, so I thought you might enjoy that.
Phyllis E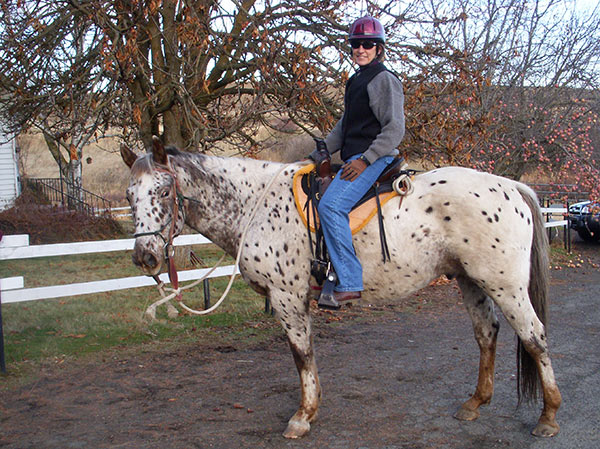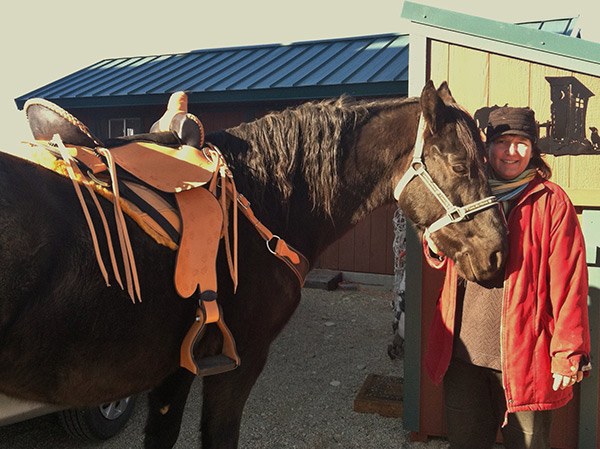 Hi CJ,
I'm really happy with this saddle, as it is both beautiful and functional! It's so much lighter then what I had before. I've got horrible upper back problems and it was always such an issue for me to get my big heavy saddle on my horse. With the saddle I got from you guys, I now can saddle up on my own very easily!! It's wonderful! Plus the saddle is very, very comfortable. I couldn't be happier! Thank you for this beautiful saddle and for your wonderful customer service!!
Heidi T
CJ and Dave,
Since getting my custom saddle in mid-May, I had to let you know what a significant difference it has made in Winchester's overall performance. He loves his new saddle and it was evident from the first day I put it on him. I am absolutely amazed at the difference at the fit, comfort and workmanship of my saddle. I love it and don't think I could have asked for a better saddle for the two of us!! Thank you.
Maureen and Winchester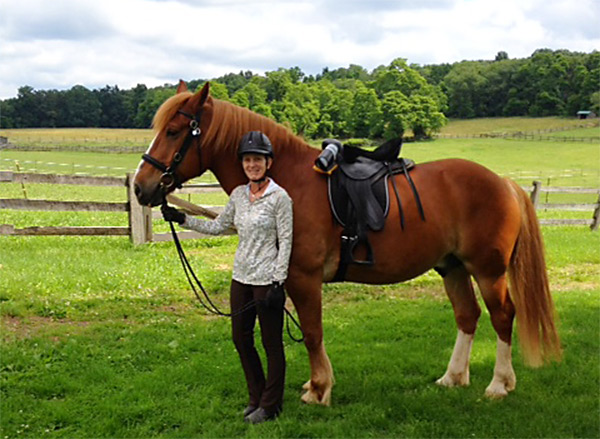 Hi CJ and Dave,
I don't know if you remember but I had a little trouble in the beginning with the fit. When I sent it back Dave had a long talk with me and we determined that with the kind on miles I was putting on my horse I needed to have the stirrups set back. I was nervous I would not be comfortable with them positioned so far back but I was very pleasantly surprised to find I was very comfortable and very secure. (Hughie can be a handful so secure is a must!) We had an awesome ride season! We completed 11, 50 mile rides, with 6 of those being back to back 50's and 5 top 10 finishes. We also received the best condition award at our last ride. It was on the 2nd day after having completed 50 the 1st day in snowy slippery conditions, day 2 saw a lot of stiff horses. Hughie did great. We came in 6th place and received the best condition award. The ride vet was very impressed with Hughie. She said that Hughie received the 2nd highest vet score she has ever awarded! She has vetted hundreds of rides so this was a very big complement. I know he couldn't have done so well without a great fitting saddle. I just love my saddle and I get so many complements, even from the vets. I brought it in at the end of the season and cleaned and conditioned it and it is even more beautiful than when I 1st got it. Thank you very much for making such a great product and especially for the wonderful customer service.
Tammy and Jackman aka Hughie