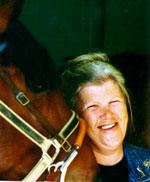 Semi-Custom or Custom English Saddles for the Trail or Arena starting at only $2595. The Synergist English DSS Trail Saddle and English Dressage Saddle were developed with the help of Donna Snyder-Smith ~ Centered Riding Instructor. Donna has trained and coached some of the nation's top riders. The English DSS Trail Saddle and the English Dressage Saddle are available semi-custom with the permanent panel system or fully custom with traditional wool flocked panels. The EQUImeasure Kit ensures that the panels are perfectly flocked before delivery by English Master Saddler Susie Fletcher-Baker.
English Saddles ~ Features
For the horse, the Synergist English Saddles offer a maximum support area so the rider's weight is dispersed over more area of the horse's back. The panels are about twice as wide as most other English saddles. This is extremely important for horseback riders who spend long hours in the saddle. The longer and farther you ride, the more likely you are to create pressure problems on the horse's back if the weight bearing panels do not spread the load over a broad enough area of the horse or mule's rib cage. It should also allow their backs to come up into the saddle when they move forward. Our saddles allow the horse to comfortably extend to its full potential. The spinal channel is very wide to ensure that their is no weight on the spine itself or the nerves that enter and exit the spine.
For the rider, the seat is flat and wide enough to allow the rider to sit in balance with little or no effort in a multitude of situations and circumstances. The stirrups are hung underneath you for balanced riding. The tree is shaped to put your thigh and seat in a position that helps eliminate lower back pain. Our English Saddles are wider in the area where you sit, and narrower in the twist (forward part of the seat), than other saddles so that it does not spread your hips, eliminating that aching feeling so many of us have after a long ride. The seat is padded enough to be comfortable for even the most sensitive rider. Synergist Custom English Saddles are designed to offer an incredible feeling of "oneness" with the horse through the saddle. They are designed for balanced riding with both the rider's and horse's comfort in mind.
English
DSS Trail Saddle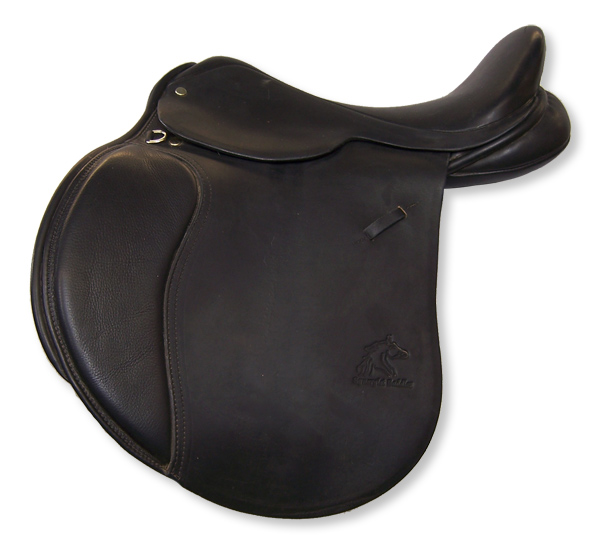 The English DSS Trail Saddle has a shorter side flap, and the knee rolls are extended forward. This allows the rider to use a shorter stirrup to facilitate shock absorption in the ankle, knee and hip joints, providing a more comfortable ride in all types of terrain including mountains and rough, uneven ground. The DSS Model can also be used for flat work, such as dressage, by simply lengthening the stirrup.
Semi-Custom Pricing and Options
| | |
| --- | --- |
| Saddle Deposit | $500.00 |
| Base Price | $2595 (Permanent Panels) |
| Tree Widths | Narrow   Medium   Wide   Extra-Wide (or to template) |
| Seat Sizes | 16.5", 17", 17.5", 18", 18.5", 19"(larger sizes available at additional charge) |
| Crupper | $50 |
Custom Pricing and Options
| | |
| --- | --- |
| Saddle Deposit | $500 |
| Base Price | $2795 (Flocked Panels) |
| Seat Sizes | 16.5", 17", 17.5", 18", 18.5", 19" (larger sizes available at additional charge) |
| Crupper | $50 |