As I write this, its -2° F here in Palmer, Alaska. In two hours or so it will be 10 F. I will then head on outside, saddle up my mare Raudi, and go for a three-four hour trail ride, on the state owned trails that are adjacent to my property. As always, I'll be using my now broken-in Synergist saddle. It is now like a well worn shoe in that it fits both Raudi and I quite well.
I am going to ride the Grizzly Camp Loop today. This is the best time to do this ride – in the summer the lower areas are inaccessible because it's swampy, and torn up by ATV traffic.   We haven't gotten much snow this winter, so the now road like trail is perfect for horse travel.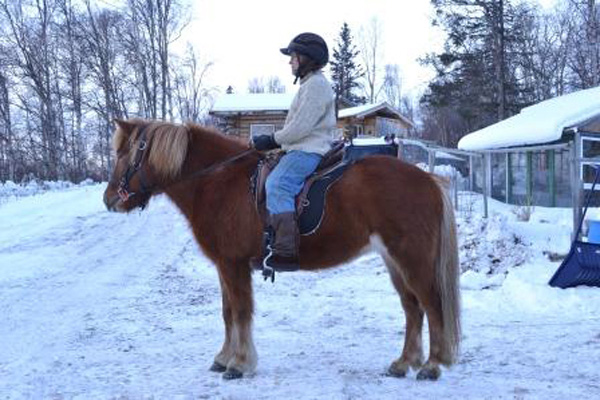 I would not do this or any other lengthy rides if I didn't have a Synergist Saddle. I feel comfortable and confident in it, and so does my horse. I was initially hesistant to order a Synergist saddle because my Icelandic mare has a short back and low withers. I had tried dozens of other saddles – bottom line, none fit. So, my rides three years previously were on the short side. As for riding bareback, my sense was that my horse's back needed more support on longer rides.   Plus, I was hesitant to go bareback when going long distances, for fear that I might come off.
The Grizzly Camp loop trail has moderate terrain; however, it does have its challenges. First of all, riders must go over several overflow areas, that is places in which sheer ice extends for a few hundred yards. And riders must cross two very narrow bridges that lack rails. The ice on the bridges can be daunting, but the hollow sound the bridge makes when crossing is even more disconcerting.
The Grizzly Camp Loop isn't the only ride that I do, nor is winter the only time in which I ride. I ride year around, nearly every day. I often ride with friends, some of whom have crappy saddles and complain about their butts and knees. I never have any complaints – I tell them that my saddle fits just fine.
I have to say that I was dubious when my friend Pam Nolfe suggested that I consider ordering a Synergist saddle. I figured that my horse, who had by this point in time stopped tolting, was destined to be a yard ornament. But I went ahead and first looked at the website. Then I ordered the Synergist video. Together, Pete and I watched it. We became interested in ordering a saddle in seeing that what I might order would not be a production line saddle, but rather, a custom made saddle. But what sold me on the saddle was the Equi-measure fitting system – it stood to reason that a mold of Raudi's back would insure that a saddle might be made that would conform to the shape of her back.
Pete agreed, and decided to order a second saddle, for his horse Mr. Siggi.
I have in riding other trails had many good adventures. I enjoy competing in and training for endurance and competitive trail rides. In places, in Alaska and elsewhere, I have had to go up and down very steep terrain. In other saddles, I'd slip around, and brace myself using my front legs. Raudi would let it be known that this was pinching her withers, by bucking and shaking her head. This has not happened since ordering my current saddle.
The day my saddle arrived, by UPS, was bright and sunny, just like today. Pete and I immediately went outside and saddled up Raudi. At first, neither of us were happy campers. The new leather was stiff, and I who was used to riding in old beater saddles, had to reposition myself. Pete wisely said to give it a few days, and keep riding, which was what I did. CJ had said that it would take 30 hours to break in my new saddle, and she was right. In two week's time Raudi and I were for the first time ever, going long distances solo.
Pete's saddle fit his horse Mr. Siggi fairly well. It did require some adjustments; Dave did this after Pete and Mr. Siggi were quite happy. I should add here that Mr. Siggi died in a trail accident in 2013. We were riding in Colorado at the time. We subsequently returned to Wyoming, where Dave rebuilt Siggi's saddle for Sygny, our pack mare. It fit her just fine.
Raudi and my greatest accomplishment came in July, 2014, in doing the Bald Mountain Butt Buster Competitive Trail Ride. We had to cross the Little Su River four times in one day. Those of us in the Competitive Pleasure and Open Categories were forewarned that this was going to be dangerous because the water was flowing fast.   For this reason safety riders were positioned on both banks. I could hear the river before I saw it. The sound of the water was deafening. I gulped in seeing it, for it was indeed fast moving. Raudi, in seeing it, snorted and immediately began moving up-river. I had no time to think or even consider returning to camp. Into the water we plunged. Raudi swam hard, then floated down to the far bank. At times, her nose went underwater. She scrambled up onto the far bank, and we continued on downtrail. As I later told other riders, I would have become unseated if I didn't have a saddle that fit us both.
Signy foaled in 2014 (an unplanned and unexpected birth) and gave us Hrimfara – the English translation of her Icelandic name is Frosty Traveler. She's soon to be three, and has been accompanying us on our daily rides. We are planning on having a Synergist saddle made for her when the time comes. As always, we have big plans. We will in time do a second long trek, and of course be using our Synergist saddles.
I write about our adventures – you are invited to ride along. Check us out – www.alysculhane.com.