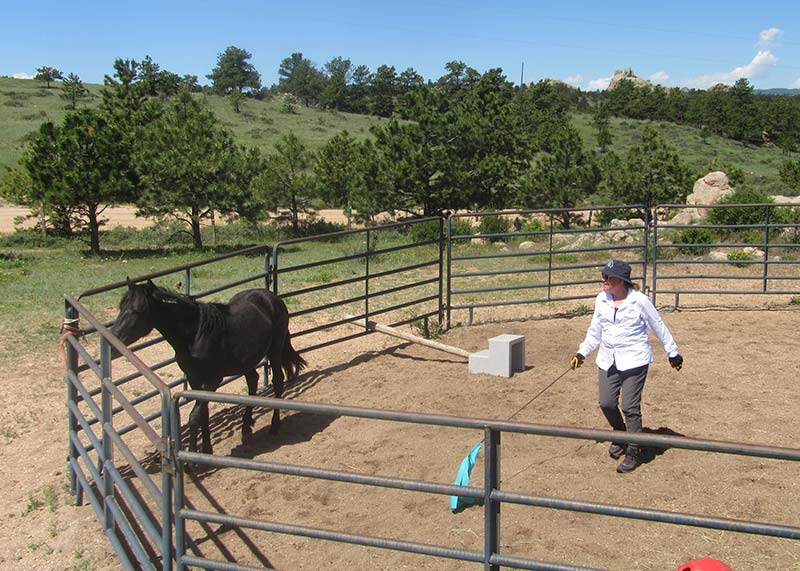 Since I was very young I always thought I was put here to protect and serve the animals. I dreamed of buying a lot of acreage and turning it into a sanctuary for horses and dogs. I keep trying to win the BIG lotto, but not yet.
So, I thought to myself I cant save them all but maybe I could save just one, baby steps. I heard of a BLM adoption that was going to be held in Laramie close by at a horse sanctuary.
The BLM was bringing in untrained yearlings and some older ones that had been worked with. I took my friend Dennis who would be my partner in this venture, as well as my mentor and a true horseman who has taught me new methods of working with horses.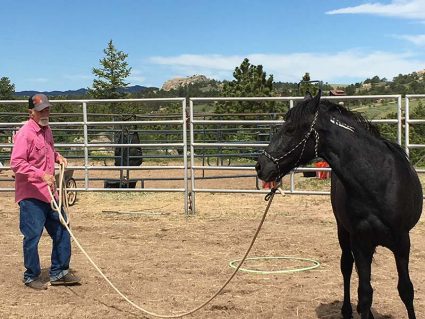 His secret is don't get hung up on one training method, watch different clinicians you will learn a whole lot more. And most of all, work with the horse at his immediate level and needs. Don't go to work your horse with a specific plan, see where he is at and work on the things he needs the most at that time.
I thought it would be a good idea to go to an adoption with an open mind, and not necessarily adopt on that day. The right one will come along I said. Fast forward to the adoption day, my friend Dennis, and some friends from Alaska, and my dear friend Joy and her husband Troy came along.
The Deerwood Horse sanctuary in Laramie has got to be the most beautiful ranch I have ever laid eyes on. Nestled up against the mountains were these beautiful lush green pastures, 4700 acres of splendor. This is truly horse heaven!
We rode in on a horse team and wagon, very cool. When we arrived at the adoption site, there were 12 yearlings to choose from, first come first served. Just hand them $25 and the horses # and he or she is yours! These were all yearling geldings, and Dennis and I were drawn to 2 out of the herd. Meet Smokey, a black gelding and we almost took Bandit home as well, but thought better of it. The BLM hands ran him up a shoot and into my trailer, easy peasy so far!
He rode very quietly home, and I when I backed the trailer up to the round pen, he calmly stepped out of the trailer. This is just to good to be true! Then we got to see him move and our jaws dropped, he just floats along, so beautiful!
Dennis and I will work as a team with him and I thought it would be a good idea to journal and take pics and video as we progress. I am going to tell you what we worked on the first 4 weeks he has been here.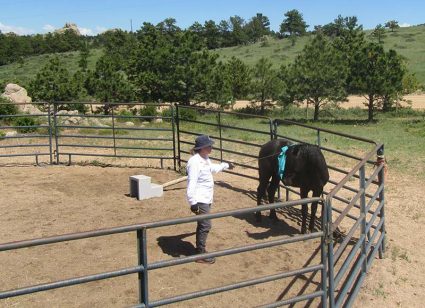 Week 1
Smokey trailer loads freestyle
I was able to touch him all over his body
Dennis had him jumping freestyle
Dennis had him move forward and back freestyle alongside him
Week 2
Smokey was doing so good we let him out to acclimate with the BIG boys Happy Jack and Rimrock, both geldings, things went well
I was able to put on and take off his halter, in the pasture he would come right up to me every time
Smokey accepted the rope-flag-and stick
Smokey decided to slip through the pasture fence to get the green grass, my heart sank, I thought I lost him. But to my surprise he followed me and Dave and the 2 BIG boys alongside the fence line, back into the driveway and right into the round pen!
Week 3
Halter leading
Disengages the hind end then the forehand
Good flexion
Accepted a rope swinging all around him, even played some jump rope, played with a BIG ball and hoola hoop.
Halter breaking is coming along great
Dennis was able to pick up and hold all 4 feet
Smokey follows me everywhere
Week 4
Dennis took him for a walk around pasture halter and lead, no trouble
walked him up and down a steep hill, he was all legs here, kinda clumsy but willing
Able to walk out to the pasture, Smokey comes right up to me, I put the halter and lead on and quietly we walk into the round pen
I am in LOVE with this little soul, he is so much fun and such a willing partner! Stay tuned next month for further progress