Late summer and fall is my favorite time of the year for riding. As the summer temperatures cool the insects die out and the forest is spectacular with the colors of the changing seasons. This is also the time of year you have to pay attention so that you don't run into any serious trail difficulties. These trail riding tips should help you be prepared.
Weather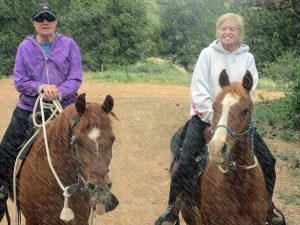 Late summer and fall riding means the weather can change in a heartbeat. You might leave on a clear warm morning only to run into rain, icy drizzle or even snow after only a few hours on the trail. Soaked clothing and chilly temperatures can bring on hypothermia. Dress in layers. Always bring along a warm rain resistant jacket. Cotton and down get wet and stay wet, wool is the preferred choice among most outdoor enthusiasts.
Always carry something to start a fire with. A trail accident can leave you waiting for help and there's nothing worse than standing around tired and cold. It's also a good idea to have some power bars with you should you get delayed on the trail.
Other useful items to carry are a cell phone for emergencies, water, simple first aid kit, a map of the riding location and a pocketknife. Keep these on your person in case you get separated from your horse. A CamelBak is perfect for this.
Wildlife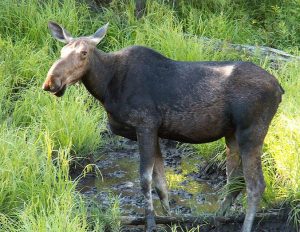 All the forest animals are very busy at this time of year preparing for the coming winter. You are more likely to come across bear, moose and mountain lions during this part of the year. I have personally been treed by a moose before. They have no natural predators and are extremely protective of their calves.
This shouldn't discourage you from riding; it's such a beautiful time of year. You just have to up your awareness level so that you don't run into any surprises. Keep an eye out for animal tracks near creeks and water. It's good to know who you're sharing the trail with.
Your Horse
Just because the weather has cooled off it's still important to make sure your horse is properly hydrated. Don't pass up an opportunity to let them drink at creek crossings. As we approach hunting season it's a good idea to 'orange up' you and your horse. You can tie bright colored ribbons to your tack. And it's a good idea this time of year to be riding with a friend or two. More horses mean more noise and less chance of being mistaken for game.
It is a great time of year and paying attention to a few details will help you have a nice safe ride.