Your saddle is completely customizable. You can choose the options that best suit you and your needs. Rather than picking from a few styles of saddles that have already been built at the local tack shop, you are part of the creative process. Based on your personal preferences, we will help you design a saddle that is uniquely yours. No compromises.
---

Pommels are available in 3 styles. (a) Round, (b) Wide and (c) Frank Bell. (NOTE: Not all styles are available on all tree sizes). After we choose the right tree for you and your horse we will then help you pick the right pommel for your needs. Your saddle can be made with or without a horn.
---

Saddles are available in (a) 4 or 5 inch cantles (height is approximate depending on the tree) and can be finished (b) smooth, (c) Mexican Braid, (d) stitched binding or (e) Cheyenne roll.
---

Every Synergist Saddle comes with a 1/2 inch of soft high-tech foam under the leather seat jockey. The (a) Slick Seat comes standard. For those seeking a little more cushion you can add either a permanently attached (b) Sheep Skin or an (c) Extra Padded Seat, with either an additional 1/4" high-tech foam or Patented Supracor covered with either a soft glove skin leather or rough-out suede.
---

For Skirts, choose from (a) Cutback, (b) Western Full or (c) Western Butterfly style. The Cutback style keeps your horse cooler and weighs less.
---

There are 3 types of rigging, (a) English double billet, designed to cinch up under the barrel of the horse. It lies flat, eliminating bulk under your leg. (b) Western with front latigo and back cinch, most Western saddles are rigged this way or (c) 3 point, (click here to see a quick video on using three point rigging)
---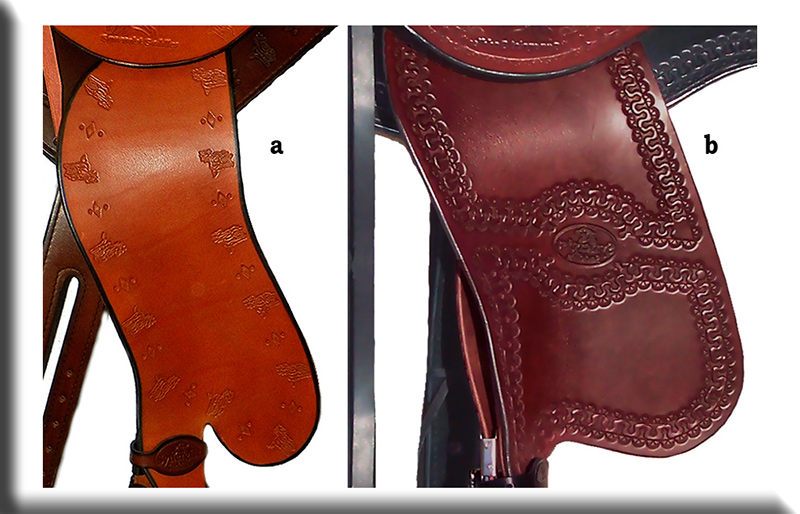 Our fenders come in 5 different lengths depending on your inseam and are available in 2 styles: (a) Regular or (b) Wide.
---

Breast Collars come in three styles, (a) English made of Biothane, (b) English made of leather and (c) Western made of leather. The Western Leather Breast Collar can be laced or tooled to match your saddle.
---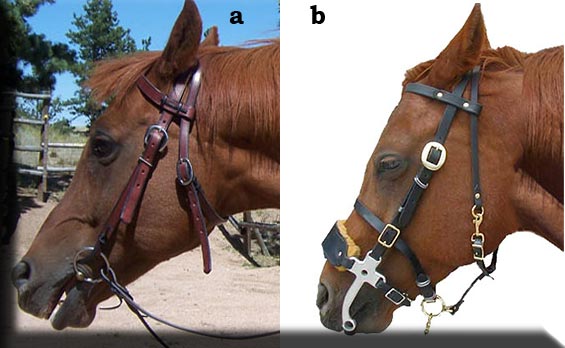 We can make an all (a) leather headstall to match your saddle or an easy to clean (b) biothane halter-bridle.
---

We have (a) leather split reins, (b) rope reins or easy to clean (c) biothane reins.
---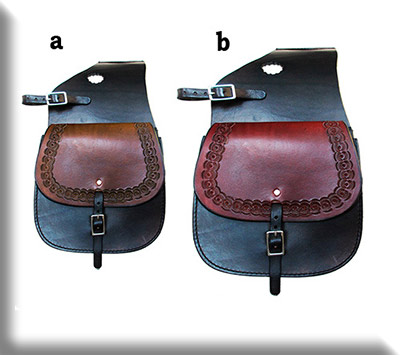 Saddle bags are available in either (a) small or (b) large. The small measures 8.5" across, 9″ tall with a 3" gusset, the large measures 11" across, 10″ tall with a 5" gusset.
---
Roper's Wrap ~ Cavalry Pouch ~ Leatherman Holder

a) Adding a Roper's Wrap to the horn allows it to be changed periodically when it gets worn out. It also really dresses up a trail saddle. Mounted on the back of the cantle the (b) Cavalry Pouch is great for carrying a few things on the trail. The (c) Leatherman Holder allows you to carry a utility knife and pliers for whatever comes up.
---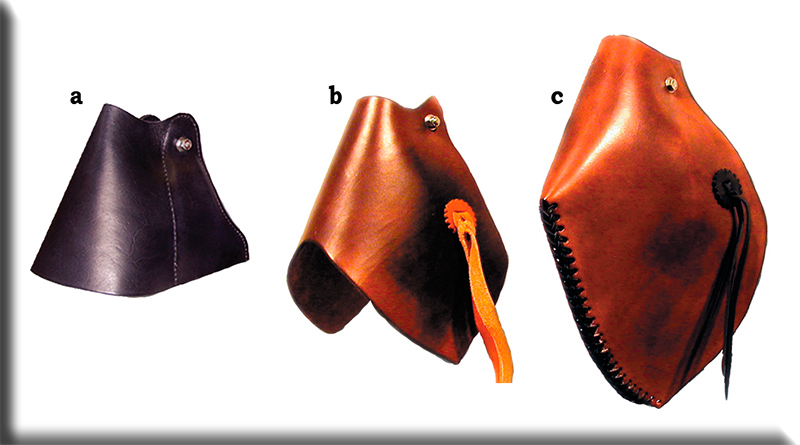 Excellent when riding through brush or snow, these all leather custom made Synergist Tapaderos look great and come in 3 styles. (a) Endurance, (b) small Western and (c) large Western.
---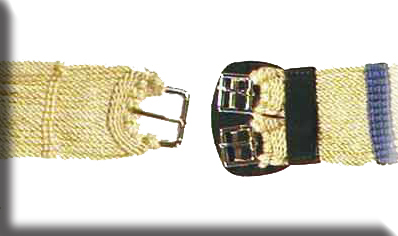 100% mohair cinch. For Western or English.
---
Custom Sheepskin Saddle Pad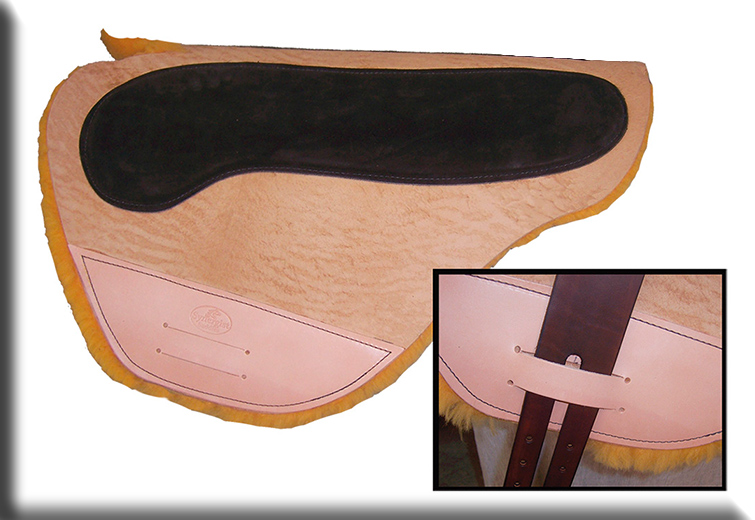 Keep your horse's back cooler and healthier. Our Custom Sheep Skin Pads are highly recommended. Hand crafted of the finest quality sheepskin with a 1/4" high tech instant recovery foam on top covered with suede to keep the saddle in place. Billet keepers on either side eliminates slippage. Visit our store to see other pad options.
---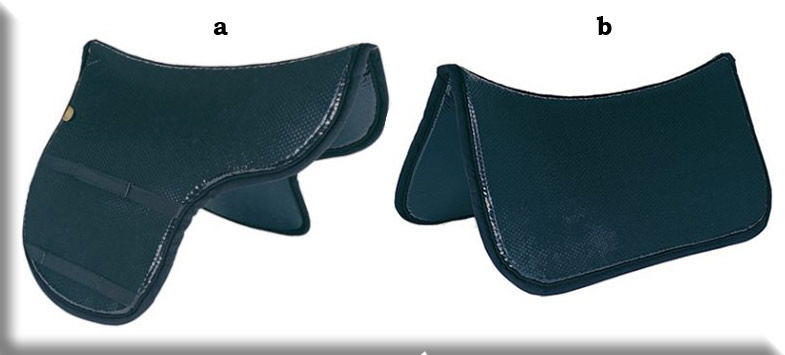 Supracor Saddle Pads have tiny perforations within honeycomb cell walls that circulates air and evaporates moisture. Your horse's back stays comfortable and cool! (a) Endurance Cool Grip, (b) Western Cool Grip.
---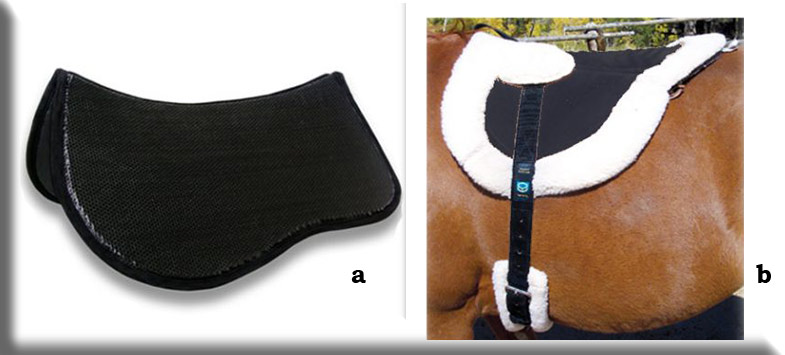 (a) Barrel Racer Cool Grip, (b) Bareback Pad
---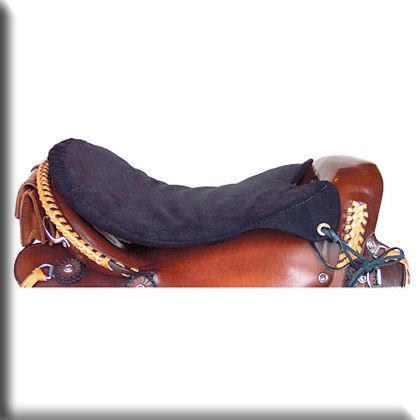 When you need to be comfortable in the saddle, Supracor Stimulite Seat Saver is the smart solution. Stimulite relieves pressure, reduces shearing, circulates air and evaporates moisture. Covered in a plush and washable ultrasuede. 
---