The Synergist Advantage…
Family Business
Synergist Custom Saddles was started out of John Di Pietra's frustration of not being able to get all the features he thought were important in a saddle. In the year 2000, the business was handed down to Dave and CJ, his son and daughter-in-law. Along with Dave and CJ, Julieanne and Sharon, CJ's cousin and sister, contribute on a part time basis. Master Leatherman, Tom Good, joined the team back in 1994 and is now affectionately called 'Uncle Tom'.
Dave and CJ had both worked previously with corporations that had grown so large that they had lost touch with their customers. Synergist Saddles is a small family business that is able to take care of each individual customers needs personally. When you call you will be greeted by a family member who cares about what is important to you.
Comfort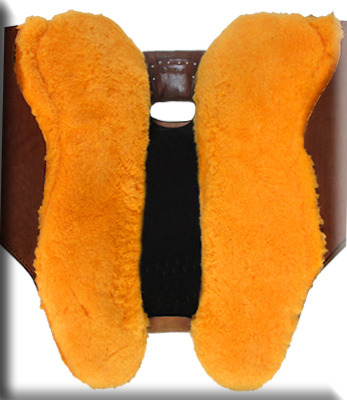 Because of our endurance racing background, we know what it takes to keep both you and your horse comfortable. Each saddle has a 1/2″ of high-tech, instant recovery foam (like that found in high end running shoes) built right into the skirting to protect your horse's back. The foam follows the motion of the horse's back which allows more freedom of movement. The wide spinal channel allows your horse's back to come up into the saddle eliminating pressure to the nerves that come out of the spine. The extra wide support panels help distribute weight over a broader surface.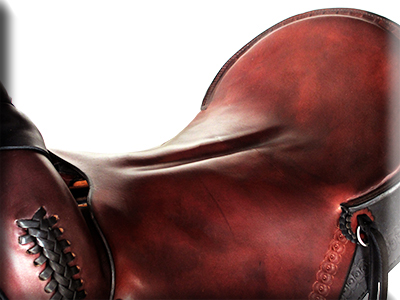 For the rider, there is a 1/2″ soft high tech foam under your seat to keep you comfortable and a 'jean seam' channel down the center to alleviate pressure while riding.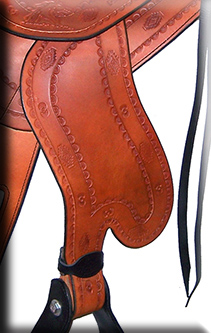 The fenders are free swinging, allowing the rider freedom of movement up & down varied terrain. They also eliminate some of the knee and ankle pain caused by rigid fenders. The leathers are recessed into the tree making a smooth transition for your thigh. The extra wide stirrups give excellent support and have a shock absorbing layer of foam and an aggressive tread to help keep your foot in place. On our endurance saddles, we offer a bulkless rigging system that lies flat under the leg and is designed to cinch up under the barrel of your horse, keeping the buckles out of the way. We also offer traditional western rigging for our Western saddle customers.
Fit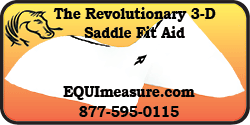 An EQUImeasure Kit is included with every order to ensure that your horse is fit properly. With the kit it's like having the horse right there in the shop. We can even readjust your saddle for life, for the changing and growing horse. If you happen to purchase a new horse, as long as the new horse is similar in width type, we can readjust your saddle as well. For the rider, individual seat bone and thigh measurements are sculpted into the tree. We offer 3 different size fender systems that are based on your inseam measurement. And because women and men are built differently, your seat will be gender specific. You can have a saddle custom fit specifically for that 'hard to fit' horse, or if you ride more than one, we can build a more generic tree bottom to fit the type of horses you ride.
Balance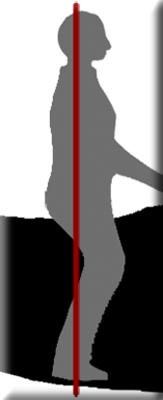 Synergist Saddles are close contact and built for balance. They offer a combination of a Dressage style seat in a more secure Western tree. The stirrups can be hung underneath you and aligned with the seat to promote a 'centered' or' balanced' position in the seat in order to distribute your weight evenly over the length of your horse's rib cage. In this position your ears, shoulders hips and ankles naturally fall into alignment. This allows you to ride with the action of the horse instead of behind it. The seat is contoured to allow you to position your thigh in proper alignment with the body's vertical axis making it easier to achieve a centered or balanced position which helps eliminate back, knee and ankle pain.
We can also hang the fenders farther forwards if you ride more on your pockets with your legs a bit more forwards. This puts you in a more defensive position. Most of our customers who are horse trainers who work with a lot of young horses prefer this position.
Craftsmanship
Synergist Saddles features a high level of both craftsmanship and design ingenuity. Throwing away traditional views on saddle design we combine old world craftsmanship with the best that modern technology has to offer. We have concentrated our attention on the smallest of details that go into each Synergist custom built saddle. Every piece of leather is hand dyed and finished. Each saddle tree is individually sculpted to provide the custom fit we are known for. From the thread to the smallest nail, from the leather to the space-age indestructible foam padding, no compromise is ever made in quality. The result is one the finest quality saddles anywhere at any price.
For those of you who would like to add a little personal flair to your custom Synergist Saddle there are a variety of tooling options available ranging from a simple design to the intricate. Call for pricing. Check website for additional tooling options.
Custom Saddler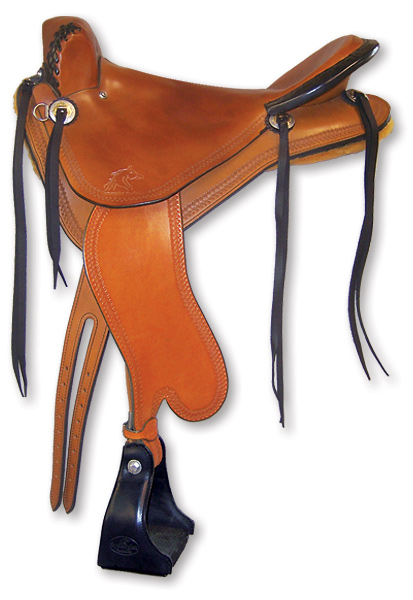 Because each and every saddle is built to order, you can have anything from an 20 pound endurance saddle up to a 60 pound roper, or a combination of anything in between. With dozens upon dozens of options to choose from, you design your saddle with our help based on your needs and personal preferences. No compromises. Whether you enjoy competitive trail or endurance, cutting or reining, or just a Sunday afternoon trail ride, there is a custom Synergist Saddle waiting to be built just for you.
Absolute comfort for the rider and the horse is what owning a Synergist Saddle is all about. No other maker incorporates the range of unique comfort features that we use when building your custom saddle.